Christmas Concert
Our most ambitious concert yet!
Date: 18 Dec 2020 - 03 Jan 2021
Tickets: R 95.00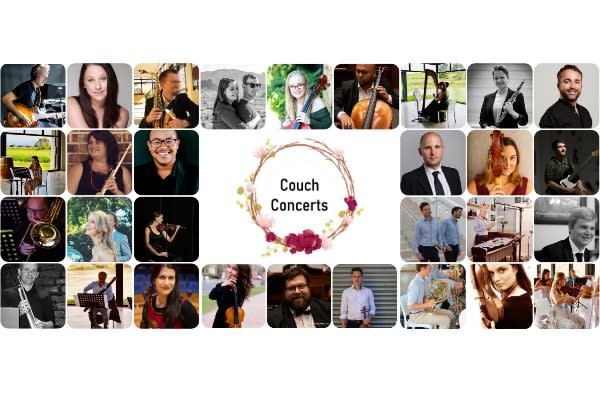 This event has ended.
About the Show
Couch Concerts is proud to present its first Christmas Special! This unique concert experience will feature a variety of musical works and ensemble combinations, the culmination of which results in a full-scale orchestral work. Some of the works featured include Saint-Saëns, Tchaikovsky, Dukas, Renie and Saxe & Wills. Due to logistical reasons & availability of musicians, we have opted to pre-record this concert. This also means we are able to stream it for the entire week preceding Christmas, so you may enjoy it at your leisure!

We thank our partners at Cassia Restaurant (Nitida Wine Farm) for graciously hosting us. We also extend a huge thanks and appreciation to the many musicians who jumped on board and made this event possible - without their faith and willingness to participate, we would have nothing.

Have a very blessed Christmas in 2020!

Musicians:
Jana van der Walt (harp)
Amy Campbell (voice)
Barend van der Westhuizen (voice)
Louis Zurnamer (conductor)
Alex Mayers (electric bass)
Jarryd West (drums)
Frank Mallows (percussion)
Robert Jeffery (guitar)
Renée van der Westhuizen (violin)
Maretha Uys (violin)
Petra Hofmeyr (violin)
Odile Burden (violin)
Valentina Koleva-Vorster (violin)
Caro Hill (violin)
Petrus Coetzee (viola)
Jan-Hendrik Harley (viola)
Dane Coetzee (cello)
Rina Schutte (cello)
Graham Strickland (double bass)
Mariechen Meyer (double bass)
Jeanie Kelly (flute/piccolo)
Carin Bam (oboe)
James Green (clarinet)
Simon Ball (bassoon)
Emil Bruwer (french horn)
Mike Magner (trumpet)
Nick Green (trombone)
Liam Burden (saxophone)
Féroll-Jon Davids (clarinet)
Frances Brand (clarinet)
Jessica West (piano)
This event has ended.