Melorie Jane Duo
Melorie Jane Duo live at Cassia Restaurant
Date: 04 May 2021 - 16 May 2021
Tickets: R 90.00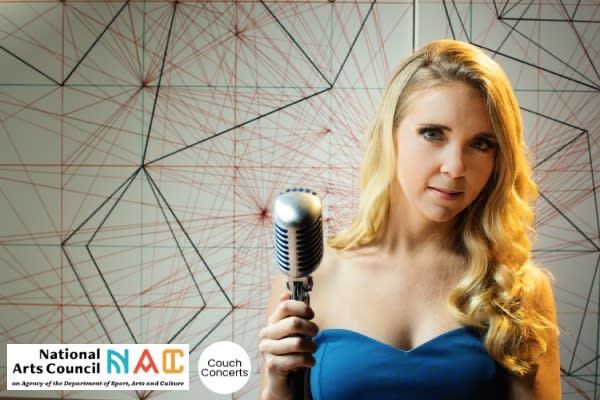 About the Show
Couch Concerts is excited to announce a virtual Jazz Concert!
Enjoy and celebrate young blood in jazz, as two upcoming female jazz artist combine their creative efforts in this dynamic duo performance. Franschhoek based pianist-vocalist Melorie Jane will be joined by Cape Town based Carla Stokes for an exciting performance of contemporary jazz, funk and even one or two more familiar tunes. The duo will come together for a debut performance on International jazz day, the 30th of April - the event will be recorded and you can purchase your virtual tickets already!
About the artists:
Melorie Jane is a Jazz pianist-vocalist and composer based in the Cape Winelands, she recently graduated with a Masters Degree in Performance of Jazz music at the University of Stellenbosch. She has performed with various ensembles in and around Cape Town, often as a band-leader and composer. She also featured in the Stellenbosch University Big Band, who performed with Gloria Bosman and Ana Davel at the Speir Amphi theater during the 2020 Woordfees, and have opened for acts such as CODA Africa. She released her debut single 'Till the morning comes' in 2017, and her EP Different view in January of 2018, available across online platforms such as iTunes, Spotify, Deezer and others.
Melorie Jane's jazz compositions contain elements of african jazz, funk and traditional jazz, however her compositions entertain a more contemporary aesthetic, hinting at a european style of minimalism. Her influences include among others Snarky Puppy, Amina Figarova, and local musicians such as Bheki Mseleku. Melorie Jane is currently performing at venues in and around Cape Town and Stellenbosch mostly with her contemporary jazz trio ensemble. She is working on new music and will be releasing a new single 'New Day' within the coming weeks. Learn more about her music on facebook at Melorie Jane or instagram at @melorie_jane.
Carla Stokes is a freelance musician (tenor saxophone and clarinet player) born and bred in Cape Town, South Africa. She is a graduate of UCT's South African College of Music and studied a 4-year Bachelor of Music degree in Jazz Performance, graduating in 2018. In 2019, she furthered her studies at UCT by completing a Postgraduate Certificate in Education in Music. Carla began her musical training studying classical clarinet from age eight and started piano at age 12. It was later, at age thirteen, when Carla started high school and joined her school's Jazz Band that she heard the tenor saxophone for the first time, fell in love with it, and began tenor sax lessons later that year. She has been playing music for seventeen years now.
Carla has performed with various big bands in and around Cape Town, including the UCT Big Band, as well as performing with The Lady Day Big Band at the Cape Town International Jazz Festival in 2019. She has also performed in various combo bands like swing band, "The Pebble Shakers", latin-fusion band "Los Tacos", and Indian-popular band "South Samam". She performed in the UCT Alumni Big Band in 2019 at the Cape Town Big Band Jazz Festival under the directorship of Prof. Mike Campbell, and has also performed in The Mike Campbell Big Band.
Carla currently teaches music at two high schools in the southern suburbs by day, and is an active musician by night. Carla enjoys performing, learning and exploring many different genres, styles, and ensemble setups, such as traditional big band, pop and rock bands, solo saxophone, and smaller ensemble playing like trios, quartets, combo bands, etc. Carla currently gigs with her jazz trio on a regular basis. Carla also works as social media assistant for Femme Arts Cape Town, as well as social media assistant to Ann Barr for the Cape Town Big Band Jazz Festival.
Carla released her debut single entitled, "Modern Love", in September 2020, which she composed and arranged. Carla plays tenor sax and a short rap on the track.
This year she released her second single, "Sunday Afternoon" in April. In this second single of hers, Carla writes an ode to her home city, Cape Town.
She produced the track independently and experimented with fusing her specialty - jazz saxophone - with electronic sounds. You can listen to it on all streaming platforms