Nottacello
Couch Concerts is proud to present an afternoon of string trio music!
Date: 13 Sep 2020 - 13 Sep 2020
Tickets: R 60.00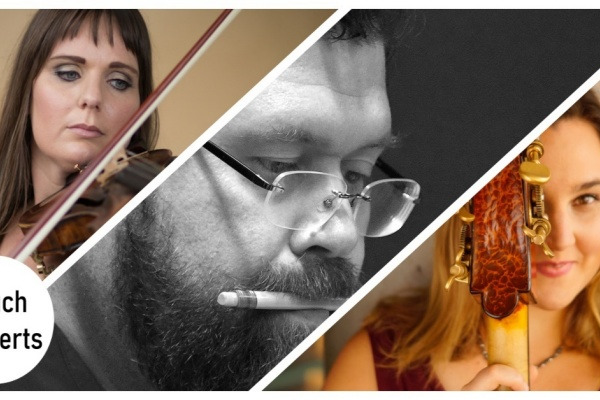 This event has ended.
About the Show
Come and join 'Nottacello' for a bouquet of works by Villa-Lobos, Granados and J.S. Bach. The pieces presented are all arranged for the combination of violin, viola and double bass, and covers a range of musical styles and genres. There will also be a new piece by Jan-Hendrik Harley, arranged for this performance. Nottacello is Annien Shaw (violin), Jan-Hendrik Harley (viola) and Mariechen Meyer (double bass). 

Get excited to enjoy a wonderful afternoon of live music from the comfort of your couch!

How to Watch?
After you purchase your ticket you will be provided with a link which will take you to the YouTube Livestream. This link will be on your ticket, so you don't have to worry about losing it. Do not share this link!

About the Musicians
Annien Shaw – Violin 
Annien Shaw graduated from Stellenbosch University in 2003 with a BMus.Hons, having studied with Louis van der Watt and Suzanne Martens. She then joined the KwaZulu Natal Philharmonic Orchestra. In 2008 she toured to Canada and Spain as a member of the Jeunesses Musicales World Orchestra. 

In 2010, Annien returned to Stellenbosch to lead the Stellenbosch University String Quartet as part of her Master's Degree in Chamber Music which she completed with distinction, followed by a Post Graduate Diploma in Solo performance (Cum Laude) under Jan Repko (Royal Northern College of Music in Manchester UK) and a FRSM Diploma from the ABRSM. Annien is currently a PhD candidate at the University of Cape Town under the guidance of Prof. Farida Bacharova and Prof. Rebekka Sandmeier. She is a founding member of the Juliet String Quartet, a member of the Cape Town Philharmonic Orchestra, Camerata Tinta Barocca and the Cape Consort. 
Jan-Hendrik Harley – Viola 
Jan-Hendrik Harley obtained his Bachelors degree in music from the University of Stellenbosch (BMUS) in 2002, specialising in chamber music, classical guitar and viola. He holds a Masters degree in chamber music with a composition portfolio from the University of Stellenbosch, and a Masters degree in viola performance with early music as related field from the University of North Texas. 
Jan-Hendrik is a composer/arranger of classical and popular music, and also freelance as a performing and recording artist. As composer Jan-Hendrik has enjoyed a number of premieres by student and professional groups in Africa, Europe and both Americas, of works ranging from intimate chamber music pieces to electroacoustic- and bigger orchestral pieces. He has done production work on numerous soundtracks and albums, his main focus being orchestration and scoring. Jan-Hendrik is the musical director of the Cape Town based Narrative Ensemble, and the curator and musical director of Ensemble Je Ne Comprends Pas. 

Mariechen Meyer – Double Bass 
South African bassist Mariechen Meyer started her double bass studies with Peter Guy in Bloemfontein, and graduated?cum laude?from the University of Stellenbosch in 2011 on a string scholarship under the Dutch pedagogue and performer, Roxane Steffen. 

From a young age, she was appointed principal bassist of several orchestras such as the National Youth Symphony Orchestra of South Africa, the World Youth Symphony Orchestra in USA, and the University of North Texas Symphony Orchestra. Mariechen has been invited to numerous international chamber festivals, among which are the International Chamber Festival in Stellenbosch (South Africa), MUSICA MUNDI International Chamber Music Course and Festival for Young Musicians in Belgium, the Stift Festival in The Netherlands, and the Interlochen Summer Camp in Michigan, USA, where she worked with Leon Bosch, Lawrence Hurst, Jack Budrow and Zoran Markovic. 
As a soloist, Mariechen has performed with the Johannesburg Symphony Orchestra (2004) and the Cape Town Philharmonic Orchestra (2008). Currently, Mariechen is pursuing her Doctoral Degree at the University of North Texas in Denton, studying with the world-renowned double bass pedagogue and soloist Jeff Bradetich. In 2013, she was a winner of the University of North Texas Concerto Competition, second prize winner of the Mid-Texas Symphony Solo Competition and a semi-finalist in the prestigious solo competition if the International Society of Bassists. 
This event has ended.