Refiloe Olifant & Annien Shaw
Two spectacular violinists!
Date: 27 Sep 2020 - 27 Sep 2020
Tickets: R 50.00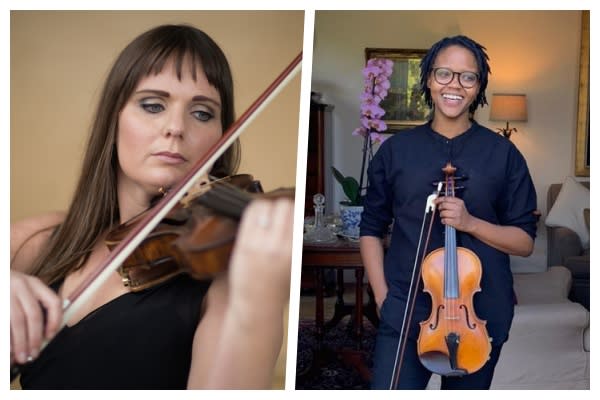 This event has ended.
About the Show
The concert will begin with J.S. Bach's unaccompanied "Violin Sonata in A Minor" - Gravé. Bach brings out the solemnity in the melodic lines maintained by a pulsating chordal movement. This is followed by Nicola Matteis Jnr's "Alia Fantasia", composed around the same time as Bach's unaccompanied solo sonatas and partitas. The program will be concluded with Beriot's "Duo Concertanté" (op. 57, no. 3). The composer showcases the technical intricacies for two solo violins, who also act as accompaniment for one another at times.

REFILOE OLIFANT started violin at the age of 8 at Bochabela Primary School in the rural town of Mangaung, Bloemfontein, taught by Isabella Bonnet. In 1999, she became the leader of the Bochabela String Orchestra conducted and directed by Peter Guy. She continued her studies, in Bloemfontein with Prof. Derek Ochse until 2006.
Refiloe studied violin with Suzanne Martens at Stellenbosch University where she accumulated her Diploma in Practical Music. After a successful audition, she was awarded a tutti violinist post with The KZN Philharmonic Orchestra and this is where Michel Schneuwly (Director of Baroque 2000) invited her to join the baroque ensemble (Baroque 2000). She performed J.S Bach Concerto for Two Violins with world-class violinist, Joshua Bell, accompanied by the University of Stellenbosch Camerata in 2012.
At present, Refiloe resides in Cape Town and after a successful audition she has been awarded a tutti 1st violin position in Cape Town Philharmonic Orchestra, she is a baroque violinist of Camerata Tinta Barocca and performs as a guest with Baroque 2000 (Durban).

ANNIEN SHAW graduated from Stellenbosch University in 2003 with a BMus.Hons, having studied with Louis van
der Watt and Suzanne Martens. She then joined the KwaZulu Natal Philharmonic Orchestra. In 2008 she toured to Canada and Spain as a member of the Jeunesses Musicales World Orchestra. In 2010, Annien returned to
Stellenbosch to lead the Stellenbosch University String Quartet as part of her Master's Degree in Chamber Music which she completed with distinction, followed by a Post Graduate Diploma in Solo performance (Cum Laude) under Jan Repko (Royal Northern College of Music in Manchester UK) and a FRSM Diploma from the ABRSM. Annien is currently a PhD candidate at the University of Cape Town under the guidance of Prof. Farida Bacharova and Prof. Rebekka Sandmeier. She is a founding member of the Juliet String Quartet, a member of the Cape Town Philharmonic Orchestra, Camerata Tinta Barocca and the Cape Consort.
This event has ended.