Sinatra Sundae
Join us for an afternoon filled with some of your favourite Sinatra tunes. Featuring Barend vd Westhuizen (baritone), Jessica West (piano), Alex Mayers (bass)
Date: 04 Oct 2020 - 04 Oct 2020
Tickets: R 65.00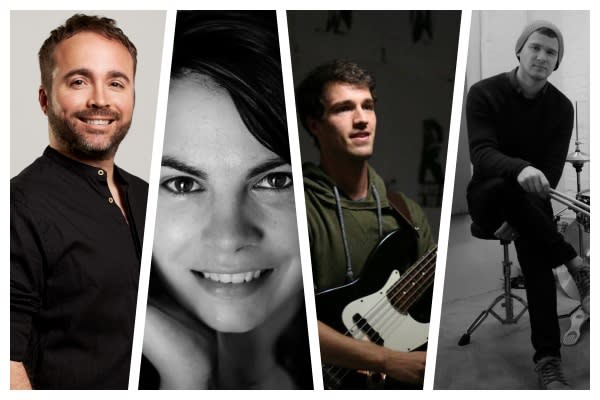 This event has ended.
About the Show
Barend van der Westhuizen is a consummate concert artist, recitalist and stage performer. He has performed as soloist in numerous Baroque, Classical and Romantic operas, operettas, oratorios and sacred music. Barend studies voice with Magdalena Oosthuizen in Stellenbosch. He has a MMus (Performance) degree (cum laude) and BMusHons (Performance) degree (cum laude) from the Stellenbosch University. He is a recipient of the UNISA Performance Licentiate cum laude in Voice. He has twice won the national ATKV MUZIQ competition's Singing Category, as well as the Best Vocal Performance of a South African work. He was awarded first place in the Mabel Quick Singing Bursary Competition and the once off Michelle Breedt Singing Prize. He was a finalist in the UNISA Overseas Music Scholarship Competition and the Mabel Quick Overseas Bursary Competition. As a versatile singer he has appeared alongside some well-known cross-over artists in Aviva Pelham's 2009 Broadway Magic II, performing hits from the West End and Broadway with the Cape Town-based band, JaZZaTTac. From 2008 until 2011 he performed cross-over music with the South African Navy Band at the Tygerberg Charité.

Jessica West holds a Master's degree in piano performance. She is a sought after accompanist and avid chamber musician. Though she is a classically trained pianist, she has crossed over into the musical theatre genre. Jess has worked on Phantom of the Opera (2011), Stage by Stage (2015), Stage by Stage II (2016), Evita (2017), The Sound of Music (2018) and Matilda, The Musical (2018-2020) in various roles, including that of rehearsal pianist, pit musician, and assistant musical director.

Alex Mayers grew up in a family of Germanic classical musicians, but broke the mould to dive into studying jazz, African music, and a myriad of popular genres. He's shifted between different instruments in the bass world, spending time focused on double bass, electric fretless bass, cello, voice, and extended range bass guitars, expanding his experience with the family of instruments and drawing upon this experience when performing in small ensembles. He currently works as a producer and mixing engineer although his first professional love is performance.

Jarryd West is a professional freelance and touring musician. Since graduating from UCT's jazz school, he has traveled locally and abroad performing and recording on the drum set in a wide range of musical styles. Most recently, he has worked on the acclaimed international tour of Matilda, The Musical, and previously worked on/with: West Side Story at Artscape, the Cape Philharmonic Orchestra, local band Emerger's new album "Bloom" and numerous appearances in the local Cape Town jazz scene. Jarryd's refined and improvisatory approach to drum set playing seeks to uplift audiences, leaving them smiling at the humorous surprises he uncovers along the journey of each performance.
This event has ended.