The Siya Charles Sextet
The Siya Charles Sextet, live in concert!
Date: 08 Jun 2021 - 22 Jun 2021
Tickets: R 100.00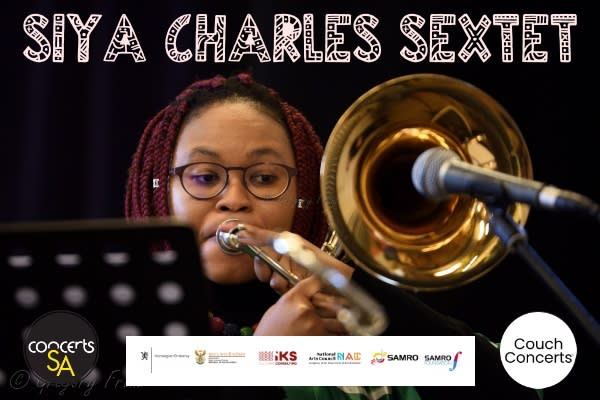 About the Show
Siya brought along her swinging sextet for us to record and share with you!
We hope you enjoy every moment of this light-hearted, joyous music that is sure to have you humming its melodies for days to come. Added to this is the absolutely stellar line-up of local talent: Blake Hellaby (piano), Zeke Le Grange (tenor sax), Show Komori (trumpet), Sibusiso Matsimela (bass) and Damian Kamineth (drums).
While COVID-19 and all of the lockdown restrictions have hurt the music industry incomprehensibly, a concert like this serves to remind us all, musicians and audience alike, just exactly what it is about music we love - the joy and happiness it brings into our lives!
So be sure to buy a ticket and support some of the people that would sincerely appreciate it - especially during a time such as this - and they'll show you just how much fun music can be!
A little about Siya "Jazzmatic" Charles:
Siya Charles is a tenor/ bass trombonist, composer and arranger based in Cape Town, South Africa. She is a versatile musician who has played in a myriad of local and international ensembles, and has worked with the likes of the late Hugh Masekela, Jimmy Dludlu, Feya Faku, Marcus Wyatt, Simphiwe Dana, Lira, and Freshly Ground. After many years as a faithful sideman in the South African jazz scene, she has become the composer and bandleader of her newly-established collective titled: "The Siya Charles Sextet."